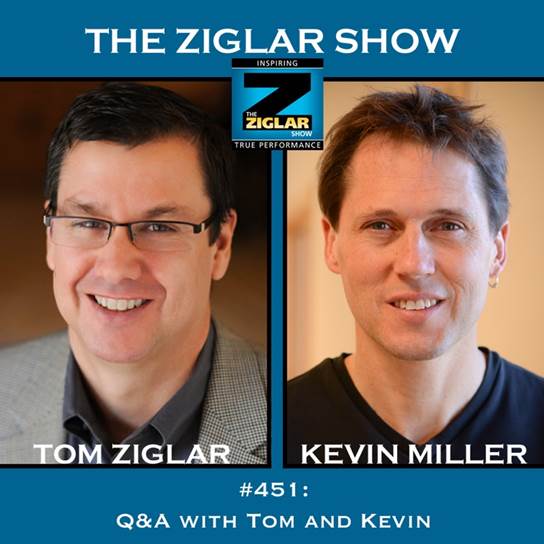 We opened the door for questions and the Ziglar audience poured them in. In this show we cover questions on establishing new habits, how to take personal retreats, dealing with unmotivated spouses, and, if it's possible, to pursue one's dreams while having young kids! Thanks to Constant Contact and Pro Flowers for supporting this episode.
SHOW SCRIPT
INTRO
[00:26] This is The Ziglar Show, episode 451, and we're back with another question and answer session. In this show we cover questions on establishing new habits, how to take personal retreats, dealing with unmotivated spouses, and, if it's possible, to pursue one's dreams while having young kids!
[01:38] Hey, everyone, I'm Kevin Miller, your producer and host of The Ziglar Show. These Q&A shows have become some of our most popular shows. Thank you for sharing your questions, hearts, and ideas. Please, continue to do so by going to ask.zigshow.com or emailing us at [email protected].
[02:10] A quick word to all those who have submitted something…forgive us as we strive to not only read and address your submission on the show, but respond to you personally. And to all those who inquire about being a guest on the show, we are honored. We do limited interviews, as that is not our primary focus.
[02:35] All right, let's dive in with some Q&A!
[02:40] All right, Tom, I always love doing the show with you. This one is especially fun because we got to spend some personal time together. And it was excellent, as we talk so much about the show and Ziglar, and personal development, and I want to start from the personal side. You and I are on the same journey as everybody else is, trying to inspire our true performance. On that aspect of personal development, what is your primary personal focus right now?
[03:19] I am an intellectual engineer, and I really get into not only the symptoms but the causes and all the things going on. We've got to dig in and find out what is right for you.
[05:46] Speaking of functional medicine, which is not focused on just dealing with the symptoms but into the root issues, I am friends with another doctor who says that traditional medicine addresses the smoke and we address the fire. I am doing the same thing with my marriage. My wife and I are 23 years married and we've got 10 little one under us. There is so much tension and, after 23 years, I feel like we are still not healthy enough. However, we don't want to settle; our marriage is just like any other part in life.
[08:40] We've got some great interview requests: John Miller of QBQ and Christine Hassler are two I actually contacted. Emerson Eggerich, who authored Love & Respect, which I ordered recently, I found out we have mutual friends in Dave and Suzette Munson, who own Saddleback Leather, so I contacted Suzette, who is putting us in touch. Someone recommended Brene' Brown, who, to date, is the only interview request to say no…she was too busy. Or at least her "people" said that.
[10:31] The other aspect that we talked about is to respond to the last question that we answered. Tom, if you remember, it was the idea of doing a reality show and coaching a person live on the show. So, you and I talked about that. Do you have thoughts, Tom, on doing one on the personal development side and doing one on the business development side?
[11:23] I would like to do it on the personal development side; have our head coach here on the personal development side. His name is David Wright. I'll have them meet you and David, I'll kind of walk somebody through a process on the podcast, and maybe check in with them every four to six weeks.
[14:12] The approach of having someone on who is starting and going through the process, who hasn't "made it," would be very helpful. It would allow us to walk with them through the experience, see what issues arise, how they are coached through it, and how the person actually handles it. Kevin, you said it, it would be raw. But, that is what would make it so helpful and entertaining.
"Love what you're doing, keep it up!
You're helping many of us out here seeking after what God has in store."
Skip MacMillan
[15:35] Hi, Kevin and Tom,
"Love the podcast and everything Ziglar! I just finished listening to the audiobook, The Power of Habit, by Charles Duhigg, and found it very telling in my own struggles to improve myself!
"I would love to hear what thoughts you and Tom may have on what impact habits have on our lives, and any advice you may want to share on 'replacing a bad habit with a good habit,' as I have heard Tom say this is the fastest way to success!
"Keep the motivation and inspiration coming,
Allan McNutt
"PS: Still anxiously waiting for you to have John Miller on the show to discuss personal accountability and QBQ!"
[20:08] When we look at replacing bad habits with good habits, I will just give you an idea, there is a bad habit of not planning your day at all. You just get going. Did you know if the alarm goes off and you get out of the bed right after that, you can remember your dreams? But if we hit the snooze button for 20, 40, 45 minutes, when we get up, we can't remember the dreams we have. So, when we are talking about creating the good habits, instead of saying, "Well, I am not thinking about planning my whole day at all," the good habit is, "I am going to plan my day at the beginning of the day."
[23:17] I tell people that you look into your dreams, look at your day first thing in the morning and last thing before you go to bed. Because nothing is better than going to bed and dreaming about your dreams, and nothing is better than waking up and remembering the dream and planning your day accordingly.
[24:15] Just add that habit, and it will often -- by proxy -- push another out. Like with news. If you add writing out your day's goals in the morning, you may just find you don't have time to skim the news, which 99.9% of the time has no bearing on your day, it's just info.
[25:25] I got a personal assistant years ago; she struggles with my regimentation to structure myself. She asked me to create a routine, a certain day of the week to do the podcast, blogs, etc. It is not the idea of how do you get yourself to be perfect; it's how to measure the dysfunction so that you can produce.
[26:50] "Thank you for everything that you do on the True Performance/The Ziglar Show in helping me in my personal development. I truly appreciate the growth I have experienced, both directly and indirectly, because of your show. For the next 'open question' show that Kevin and Tom have, I would like to hear how important it is to have your own 'personal retreat' for personal development. I am considering my own personal retreat, but want to learn from your experience as to how to prepare so that I may gain the most out of this experience.
Thank you!"
Ken Sien, CMP
[27:35] There is a guy that I talked for long time about having him on the show and I have him here, Gary Barkalow. He wrote the book It's Your Call, always was an inspiration for me. He did daily journals. The daily journals cannot be just a few things, but it can be a few thoughts, a few goals. Taking time away and writing a daily journal is an idea.
[30:17] The idea of a personal retreat -- all you're really doing is saying, "You know what, I need to connect with my soul, I need to get my soul in the place where it is really quiet." So, personal retreat can be in your office, or 4-5 am in the morning, or go to some nature park and sit on the bench.
[31:28] I reference that the study that you reference is in the book Natural Born Heroes, which you and I are reading, written by Christopher McDougall, and the study which we reference is known as "cognitive benefits of nature."
[33:58] "I'm addicted to your podcasts. Thank you!
In 447, At about 14:30, Zig mentions Jefferson Research Institute data that in 1770s, 90% of education was in ethical issues/values. I'd like to cite that article/research. Any idea where he found it? I got on their site, but it seems like a needle in a haystack deal.
Thanks much."
Steven Baldridge
[37:15] Maureen – "My husband has always hated all goal setting, and he sets none! I've always been the opposite, and it's created much friction. I've learned to let a lot go -- including my aspirations -- by following his lead (we are Christians) -- but I still desire to help more and influence more. I know this comes about by having goals and being our best! How do I encourage him?"
[39:40] Jim said, after asking about his tough marriage, that when he finally figures this one thing out, other things won't matter. He said when he figured out that his responsibility as a husband is to create the environment that allows his wife to be all that God created her to be, once he figured this out, everything else took care of itself.
[43:34] "I'm a newish mom who's pregnant again. I have many dreams –obtaining a master's in counseling and/or being a nursing home administrator. BUT I refuse to choose a career over my family, and it seems like so many jobs demand that. How do I pursue my dreams while juggling a family? It's hard enough to get through each day some days, as we both work full-time from home (an answered prayer!) but care for our daughter from home, too. By the end of the day, we are exhausted! We aren't sleeping great at night due to the little one, as well. I guess the question with this also boils down to is, is it possible to pursue dreams while having a little one? Our family is not close by and we have a limited support network (as friends live away and everyone seems to be too busy to help). Do I wait until she's older to accomplish more but plan now?
Hope this all makes sense. Another night with not a lot of sleep…God bless."
[45:05] A couple of things I wanna say -- every morning and night I think there are seasons. You know, there are seasons when we need to look and be realistic with the reality that this is not the season for this, we need to put it aside; we need to wait.
[45:32] The sleep issue, I also like to look at the circumstances, look at the reality, what you are talking about, "we are exhausted." Going back to where we started off, Tom, talking about in the beginning the functional medicine, personal wellness, best out of our body, you are talking about the a) epidemics, b) a lack of sleep for whatever reasons, c) people working too long, d) watching television late, whatever it may be, you are talking about the little one who is distracting your sleep. Sleep losing is not a favorite thing to me. Sleep is important for me and important for kids, too. It is about scheduling your child.
[53:37] Managing our dysfunctions, our circumstances, our strengths and weaknesses…
[53:45] So, we can produce…anyway. Top performers do not all become the same type of person. They do goofy things to manage their weirdness so that…they can produce success.
[54:18] Low performers allow their dysfunction to handicap them and not do it…anyway.