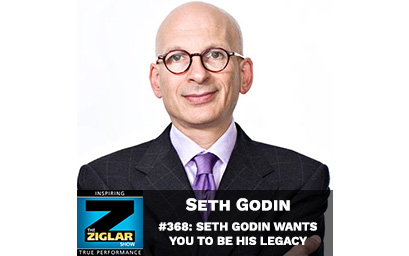 This show is brought to you in part by PIPEDRIVE, the CRM for small teams with big ambitions. Ziglar uses Pipedrive to help coordinate our sales pipeline. Head over to Pipedrive.com/ziglar to start your exclusive 60-day free trial only available to listeners of this show.
Well, friends, today marks a significant achievement in the life of any podcaster…I got to interview Seth Godin. Tom and I just completed an hour with him on Skype, Seth in NY, Tom in TX, and me in the high CO Rockies.
If you don't know who Seth is, I'm quite surprised! Simply type "Seth" into any search engine and you'll find him right at the top. He is a brand. But here is the quick bio if you need it.
SETH GODIN is the author of 18 books that have been bestsellers around the world and have been translated into more than 35 languages. He writes about the post-industrial revolution, the way ideas spread, marketing, quitting, leadership, and most of all, changing everything. You might be familiar with his books Linchpin, Tribes, The Dip and Purple Cow.
In addition to his writing and speaking, Seth founded both Yoyodyne and Squidoo. His blog (which you can find by typing "seth" into Google) is one of the most popular in the world.
He was recently inducted into the Direct Marketing Hall of Fame, one of three chosen for this honor in 2013.
Recently, Godin once again set the book publishing industry on its ear by launching a series of four books via Kickstarter. The campaign reached its goal after three hours and ended up becoming the most successful book project ever done this way.
His newest book, What To Do When It's Your Turn, is already a bestseller.
Folks, this was an interesting interview. Seth comes from a different culture and time than Zig and I would not otherwise connect the two. Yet, Seth gives Zig the outspoken honor of massively influencing his life.
In this interview I press into Seth's viewpoint on motivation, inspiration, sales. I ask about his perspective on some very personal viewpoints, and we end with Seth stating the legacy he hopes to leave.
I must say, Seth is very clear on his viewpoints and messages and I was admittedly nervous. He rejected one question and disagreed with a couple more. As you'll hear, one question he even said we may want to leave out of the show. But Tom and I chose to let it all run candidly.
What you'll find are some core truths coming together in a way that may resonate with you for the first time.
Hey, if you want to start the week off right, get a Ziglar quote sent to your text to interrupt your plow into a busy week. Just one text, one quote, and we'll include a small link that gives you the quote in a great-looking image from our Facebook page. This morning I sent a quote out that's highly relevant to today's show, "The choice to have a great attitude is something nobody or no circumstance can take from you." To sign up right now, text Ziglar to 38470. That's it. Again, in your "To" field, type in this five-digit number, 38470. In the message, Z I G L A R.
Before I bring you Seth Godin, you'll hear him get very serious about the value of Zig's book, Secrets of Closing the Sale. You can get that book right now here https://www.ziglar.com/product/secrets-of-closing-the-sale.
Now I bring you Seth Godin and Tom Ziglar -- get ready to expand your mind.
Seth, thank you immensely for giving yourself today to The Ziglar Show, it's a significant honor to bring you to our audience!
Seth, as I do with every guest, I type their name and Zig Ziglar into a search engine to see what pops up. You showcase more flat-out testimony to Zig's influence in your life than any guest we've ever had.
I found some specific testimony that really interested me, and I want to hear more about it. Let me read from what I found:
"Twenty years ago, when my business was flat-lining, Zig spoke up. For hours and hours every day in the car (on cassettes that literally melted from overuse), Zig poked and prodded and encouraged and mostly called my bluff. I remember the long drive home from yet another failed sales call, an hour or two that could have been spent planning on how I was going to quit--instead, Zig was helping me plan how I was going to stick it out."
Then in a blog of yours in 2013, you also cited, "When I was starting out on my own, success was not around the corner or even in sight. For years, I was flirting on the edge of failure. I was thrown out of sales calls, rejected by just about every organization I approached, and was pretty stuck. More than once I considered giving up the entire entrepreneur thing.
"One of the key factors in both surviving this time and figuring out how to shift gears was my exposure to (as we called them then) books on tape, particularly the work of Zig Ziglar. I listened for sometimes hours every day. I've been grateful to Zig every day since, and I still listen regularly."
To those of us who view you as Yoda of business insight and wisdom, it's almost hard to envision you being "thrown out of sales calls."
Two questions. When were you first, literally the first time, made aware of Zig Ziglar? Did you take to him and his message and perspective right away?
> > Hear Seth share how his dad introduced him to Zig, and he states, "I won the parent lottery. They taught me respect. Respect for opportunity, responsibility, and to make a difference."
>> Seth also gives us a gift in his free PDF, The Bootstrapper's Bible http://www.sethgodin.com/sg/docs/bootstrap.pdf
>> He also shares his desire to help people "amplify their belief."
Second…when and what were you doing at the time of these valleys in your life where Zig's message picked you up?
SALES
Seth you are an unabashed, proud salesman. You've spoken of Zig's book, Secrets of Closing the Sale as having massive impact on you. I heard you comment on the influence Zig had on you regarding "the fear people have of saying yes when you sell to them."
The topic of sales is a bit of a soapbox of mine, as I'm a proponent of Zig saying we are ALL in sales -- which I love, as sales is influence, and we all desperately need this skill. It's one of the understandings my parents gave me that I'm most grateful for.
So with that in mind, that we are all salespeople and daily engaged in the process of trying to sell to others, will you dissect the issues of "the fear people have of saying yes when you sell to them"? How does this play out in the everyday lives of everyday people?
>> Seth says Secrets of Closing the Sale is super easy to misread as a way to manipulate.
And that sales is a transference of emotion.
Doing nothing is the most popular option when faced with a decision.
Then we have a long talk on FEAR in regards to being sold.
PROGRAMMING
Seth, I was raised on Zig. My dad, Dan Miller, who wrote the book 48 Days to the Work You Love, like you, wore Zig's tapes out. When I was being difficult, my mom and dad would often have me listen to or read Zig for an attitude adjustment. It's actually quite ironic I'm now a fan and voice for Zig, instead of feeling mentally oppressed at the sound of him!
But the programming…stuck.
You were recently interviewed by Tim Ferriss [fourhourworkweek.com
]. I actually didn't know about the interview until one of your Alternative MBA students, Jon Dale, texted me. Jon and I have been good friends since long before he did the MBA with you; we're neighbors up here in a small town in the Rockies. Actually, because I know he'll be listening, I'll let you say a quick hi to Jon.
Ok, on the aspect of programming, in your interview with Tim you mentioned books that have profoundly influenced you, and the first you cited was Zig. You said you listened to them so many times you wore out 72 cassettes and had to buy another $500 set when you didn't have $500 to spend.
Seth, I have long been an advocate of less content in our "hungry for the next thing" culture -- instead of grabbing for the latest and greatest, sticking with the foundational resources and repeating them until they actually change us.
Will you talk on this? The need for repetition and programming, and also comment on where you see, or don't see, this in our evolving culture?
>> Seth discusses
The resistance (lizard brain)
People grooming their social media to feel like they are doing a good thing and really…they're hiding
The need for valuable ritual in our lives and refilling core messages
Then he states that everyone should blog
COFFEE
Ok, also in Tim's interview, he led off asking you about how you make coffee. I've roasted my own beans for over a decade, and I really enjoy, enjoying coffee. But the novelty with you is you don't drink it. So I'm wondering, who do you make it for? Who gets to enjoy the fruit of your labor?
>> Seth makes it for his wife, colleagues at his office, and more!
FOOD
So on that note, and I'm admittedly going between personal and business, which, when involved in a passionate life, I'm incapable of separating, I'm going to ask a personal, and for me, positioning question. I'm very involved in Functional Medicine [https://www.functionalmedicine.org], which is focused on root issues and helping us be…fully functioning. But it involves a very counter-cultural diet.
Seth, I've heard enough to know you have some thoughts in this area. But my question is, on a day when you blow it out to celebrate -- your birthday, Thanksgiving, whatever it is, what is your ultimate meal? Food, drink…the works?
>> Seth describes his diet (no surprise, not the norm), and shares his search for placebos to help him feel better.
FAMILY
You have two sons. Do they know who Zig is? And if so, why and in what context have you shared with them?
>> Seth actually shared earlier in the show how one of his sons was listening to Zig and cited that Seth had been talking Zig's material for a long time!
GRANDFATHER
One more tidbit from your interview with Tim Ferris that I was intrigued by. You said to Tim, "Zig is your grandfather, my grandfather, Tony Robbins' grandfather -- none of us would be here if it weren't for Zig."
That feels like a big statement, Seth. You are often cited as one of the, if not the, most influential voice in business today. You are in your prime in today's world, and you say you and some of today's and past days' most influential powerhouses owe their stage to Zig.
>> Seth shares how Zig opened the doors to get up in front of people and inspire them!
MOTIVATION/INSPIRATION
Ok, Seth, the foundation of Zig Ziglar was…motivation. Inspiration. Fuel for taking action. This is the crux of why I am here today, giving my time to furthering the legacy of his timeless message.
You are well aware we are in a "microwave society" that would rather have the next "10 steps to, whatever…Internet business success or how to write a book," or any number of things.
But they don't want to do the inner, deeper work. Getting to the roots, the fuel.
Seth, a main reason I'm here today is I don't see a replacement for Zig. Or should I say, another relevant purveyor of what he devoted himself to.
My bigger question, however, is in relation to the culture and society that wants to skip over the need for personal development. The days of old, with 50,000 people filling a stadium to hear Zig and others speak on the necessary fuel of motivation, inspiration, encouragement, are gone.
Ok, sure, we have the electronic age where we don't have to physically attend an event. But I honestly don't believe that's the issue. This culture wants the microwave. The pill. So we don't have to do the true, hard, deeper work.
So I ask you, Seth Godin, maybe the biggest, most influential voice in business and culture today, what do you have to say to the necessary inspiration and motivation and personal development that, as Zig said, "fuels our true performance"
>> Seth disagrees with some aspects of the question and offers we are getting good leadership in this area.
STAND IN FOR ZIG
The one time you got to work with Zig, you told him [you would be available] anytime he wanted you to stand in for him, even with the accent. So, will you do a Zig impersonation for us?
>> It brought a smile, but also a, "No."
FUTURE FOR ZIGLAR BRAND
Seth, I don't know how much you charge for business consulting, or if you do a lot. But I'm going to ask for some literal counsel, as it's much of the reason I'm here helping Tom lead the Ziglar company.
Zig has been gone from this earth for over three years. He's no longer writing books or speaking from stages. This has caused some aspects of the Ziglar business to dwindle. Yet, we have the Ziglar Facebook page with over four million likes and growing. This show has exploded since we revived it just 15 months ago. Our Instagram page is growing by leaps and bounds with Zig's quotes. What do people need that we at Ziglar should bring them? What would you do if you were at the helm? How can we do better?
>> Seth says he doesn't do business consulting, but he does…give free advice. He actually started off saying we may not want to include this segment in the podcast, but Tom Ziglar and I, Kevin, decided to let it roll. We felt the counsel was of high value.
LEGACY
Zig, and now Tom, have a big focus on the Legacy we create and leave behind. So, if I can, Seth, what do you hope your legacy to be?
>> Seth says, "I would like to be measured by what the people who learn from me taught other people."