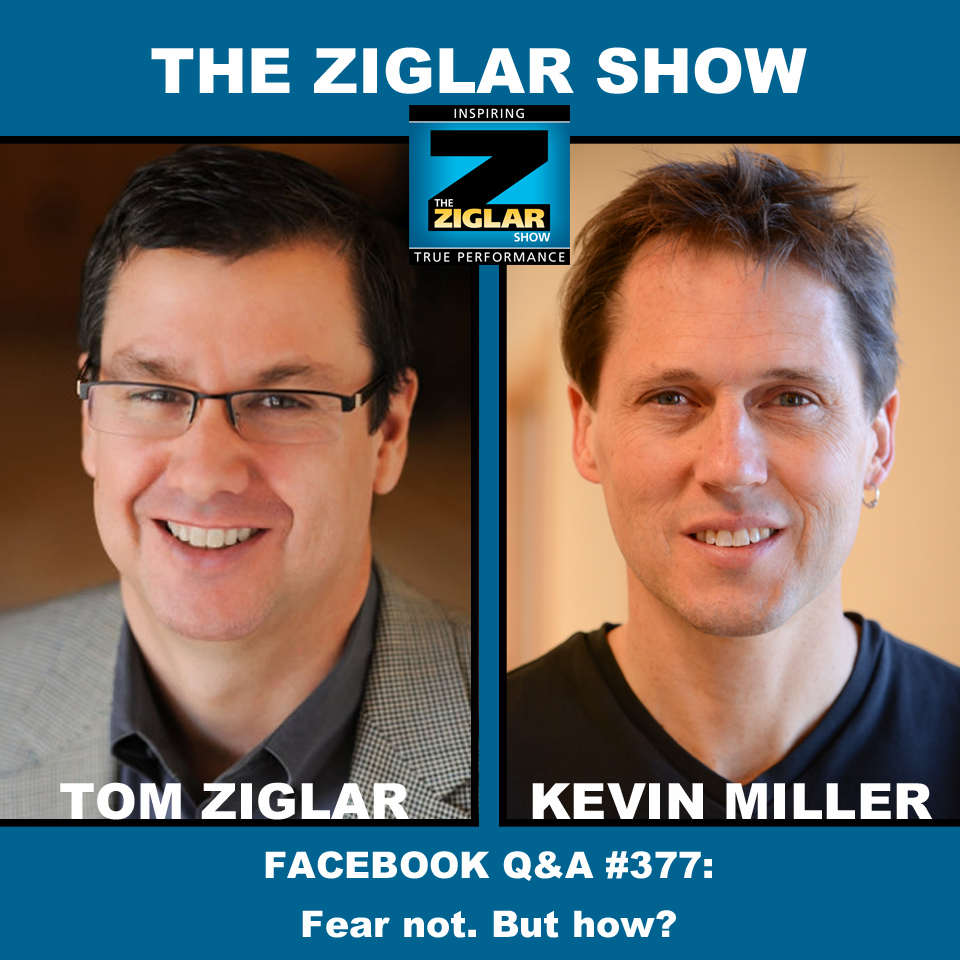 I hope you had a blessed Easter, and to honor the occasion, we're going to listen to a clip from Zig on…faith.
Zig was an outspoken Christian, but as he did with all things, he shared from a heart of love that nobody could deny. Which gained him respect from people of all types of faith.
Your takeaway today is twofold.
#1 – realizing that in seeking success, if you do it without faith in a higher power, you are one of the very, very few. Not having it -- statistically…not my opinion -- is a handicap. Just like not having goals or a positive mental attitude, or healthy relationships. Study the experts, authorities, teachers and leaders that you respect, and you'll find the vast majority have a strong faith in a Higher Power. Zig will be citing his personal faith in Jesus Christ. One of the reasons I'm here as host of the Ziglar show is that I share that same devotion.
However, I won't be pressing you on that, rest assured. There will be no alter call or religious debate. Christ is about love -- first, foremost, and you can wrap it all up in that. If you encounter a so-called Christian and you don't feel loved by them, then don't blame the faith. Blame a counterfeit. Or, at least…a faulty follower. Which I'd have to admit I often am.
But, again, I'm asking you today to listen in to Zig and consider and weigh the value of faith in your pursuit of success and inspiring your true performance.
#2 takeaway – Everybody…has faith. They place their faith in something. Is it something worthy of giving your life to? We'll briefly discuss that.
Here then is…Zig:
Zig starts off mentioning his birth to a Christian mother. Even after growing up in the church and going to church thousands of times, he came to his personal relationship with Christ at age 45.
There are a couple significant points to pull from this, folks, and use for ourselves:
1. The Zig Ziglar 99.9% of people know is the Zig after age 45. As Tom Ziglar stated, when Zig was 45 and came to Christ, he became a broken man. Now I doubt anyone listening thinks of Zig as particularly broken. But it wasn't a broken spirit or self-deprecating humility. It was Zig realizing life had a high calling, that God was the creator of life, and that he couldn't possibly succeed without Him. He was broken, in that he could not fulfill the calling on his life without a full-out dependence on God.
I revere Zig's faith in Jesus, his humility and his love, and jointly the reality that he stood strong and tall on stage and out of passion, conviction, and love…he led people. He didn't pull any punches.
If Christianity had more of that exemplified by its followers, it wouldn't have the negative baggage associated with it like what exists today.
Strength, conviction, and true, loving, accepting humility.
But there will always be the prideful and shamed and ill-guided folks, just like the Pharisee in the Bible.
And again, on any given day, any given moment…that Pharisee. That hypocrite. That poor example and mirror of Christ…could be me.
But we can keep, every day, striving to love better. And to have stronger faith. Yes?
But to the Zig we all know…who really became who he was after age 45. You…I…we…can remake ourselves, folks. In many ways. What and who we are is not what and who we have to be forever. We can change. We can refine, revamp, renew, and to speak again of Easter…resurrect.
If that means you need to move and start over…go for it! I have, more than once. In 2003 after a long stretch of chaos with business and life, I took a new gig and we left our home of a decade in Franklin, Tennessee, and moved to Silicon Valley. We left family, deep relationships, and a great place. We only stayed in Silicon Valley long enough to secure a large marketing consulting gig, then moved here to Colorado, where we live now. And we found our true home. Our DEEPER relationships. And so much blessing.
Again, years after that, I put a business I'd grown for seven years on pause, completely, to pursue the two ventures I'm currently involved in. It wasn't a cross-country move, but it was a significant change. A hard letting go…to embrace something better. But at the decision time, it was so unknown.
2. Which brings us to…faith. Hearing God's calling. Which was proven out both times…I did.
Also, in this segment of Zig's story, what a great example of persevering in a message we want. It may take thousands of exposures before it takes root. Persevere in the qualities you want to have. Stay exposed. Make daily deposits. Have faith…it will take root.
Sponsor Break! One of The Ziglar Show's top sponsors and supporters is Harry's Razors. Two days ago, I got a shipment of 16 razors. I must admit Harry's is just a brand I personally want to associate myself with. I love their message.
Then, they have a better product.
Last, they cost less!
That's the holy trinity of a great product.
You can get $5 off the only $15 kit now at Harrys.com, just use the code ZIGLAR.
Harry's did, in the shaving industry, what other revolutionary companies have done in their industries. They sidestepped the norm. No games or power plays. In Harry's case they simply realized, "Hey, razors cost a certain amount because they go from the manufacturer to a retailer to the customer. Let's cut out the retailer and we can deliver the best, at the cheapest."
It just happens once in a while.
Harry's was founded only two years ago and they have massively disrupted the shaving industry and beaten giants like Schick and Gillette. They purchased a 93-year old German factory that makes the blades, and ship straight from there to your doorstep. Harry's emphasizes great design, meticulous craftsmanship, amazing value, and highly personal and dedicated customer service for a completely better shaving experience. Get started now by going to Harrys.com to get your kit. Use the code ZIGLAR to take $5 off your purchase!
OK, Zig said next,
"Without faith it is impossible to please God."
What if you're listening and have to admit that pleasing God is not a big motivation for you? It's good to be honest. I'd encourage you to take your Bible, or borrow one, or just type in a search engine…and find the Scriptures Zig referenced. Read the context before and after. Got questions? Ask them. Don't mistake a church as a place for mere spectators. Go. And after, approach the pastor or a leader and tell them you have questions and want to schedule a time to ask them! If you don't get a warm reception to do this, find a church that actually knows Jesus and doesn't just give lip service to Him.
Zig cites that in the Bible, 365 times, it says "fear not." That was really compelling to hear. If you don't think of yourself as a fearful person…do you ever worry? Do you have any anxiety at all?
If you happen to say, "No, I'm good. Cool as a cucumber," I'd be compelled to ask…are you doing that much of worth? Are you stretching yourself at all?
The tension is in going after big things, things that have some fearful aspects to them, but doing it with God, and having faith instead of fear.
This is a big issue, folks, and surely not one I'm devoid of.
I'm going to be pressing in here. Where do I have…worry? Anxiety? Those are fear-based, not faith.
Last topic today, though, folks, I mentioned it earlier.
We're talking about faith in a Higher Power.
But if we look at our everyday lives, we all have faith in something. It would be obvious if our life were audited -- what we have the majority of our faith in would be revealed. Some headliners:
Higher Power – but think of the people you know. While you may know some who openly profess and speak of a faith in a higher power, if you didn't know that, would it be obvious by how they lead and live their lives? Take that into account.
Next, how many would show their faith is in their…
Work? Employment or business?
Money?
Performance?
Science -- I'd submit, is just another form of higher power. Something beyond us that we can't control and is overpowering.
Self?
I'm not here to make a pitch or talk you in to something.
I will admit that my head and, truly, my heart, believe in Christ. But I know well that if my life is audited, it's a head-to-head race with faith in…myself. My performance. My hands.
I suffer from this. I'm blown away by God's grace and attentiveness -- to me, anyway.
I hope that from this show, you…just like I am, are compelled to take your faith captive. What place does it have in your life? How is it helping you, or how is the lack of it…hurting you?
I leave you now…dwelling on this...
Thank you for being here with me. Talk with you in the next…Ziglar Show, where we'll once again seek to inspire our…true…performance.