THE ZIGLAR COACH LEADERSHIP PROGRAM
Business has experienced more disruption in the last two years than at any time in recent history.
The fact is, disruption is only going to increase and people have dramatically shifted in how they want to work. Old style, traditional, top down, positional leadership has gone the way of the T-Rex! A new kind of leader is needed: The Coach Leader
Is your business facing any of these challenges?
Retention of Top Performers
Hiring
Engagement
Burnout and work/life balance
Performance and Productivity
Collaboration and Innovation because of Disruption
Team members' need of autonomy and flexibility
The waves of disruption continue to hit - COVID-19, Delta, Omicron, Supply Chain, Remote and Hybrid Work, Inflation, and The Great Resignation.
I have good news for you:
Coach Leaders THRIVE in Disruption!
Coach Leaders know we are in the middle of THE GREAT REIMAGINATION! Coach Leaders are able to reimagine the future!
Coach Leaders understand that:
People want to find PURPOSE in their work
Quality of Life = Quality of Work
Everything Hinges on Vision and Virtues
Top Performers crave Accountability and Disdain Control
Intentional Goals and Growth Coaching conversations are the silver bullet to success
Long-term success means walking out the 10 Virtues
Schedule with our Coaching Strategist Today
Two big reasons why the Ziglar Coach Leadership Program is different:
1. RELEVANT AND TIMELY - based on two years of research focused on everything that has changed in business since March of 2020 - and how to thrive because of the changes.
2. EASY TO UNDERSTAND AND IMPLEMENT - being an effective Coach Leader is not a mystery - it is based on human behavior and easy to implement how-to's.
Three key takeaways every Coach Leader will learn:
Key #1: The Coach Leader Mindset
Key #2: The 10 Leadership Virtues Every Coach Leader Must Have Key #3. The Coach Leader Coaching Process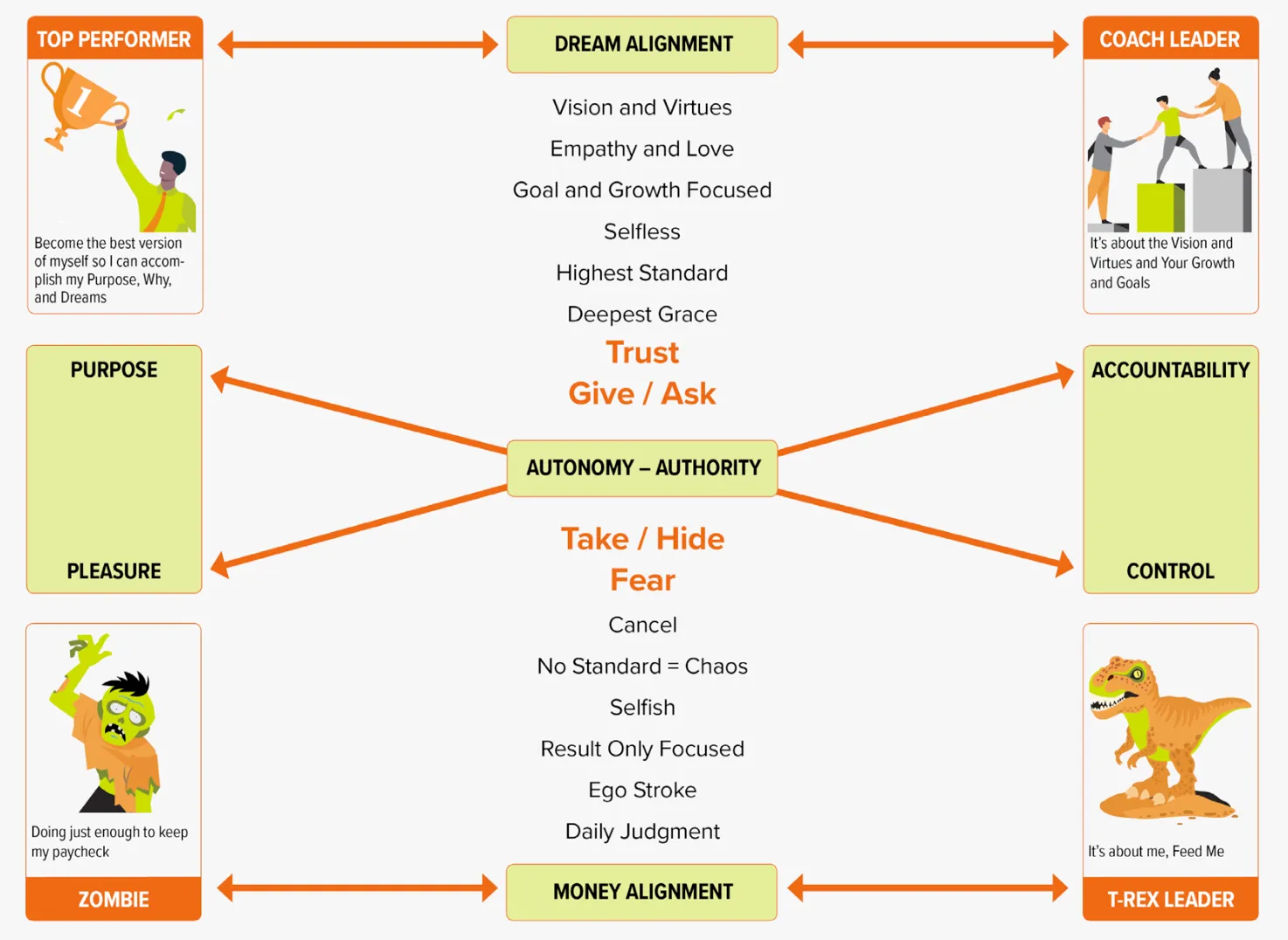 Topics covered in the Two Day Interactive Workshop:
Part 1: The Coach Leader Mindset
In part 1, Coach Leaders learn how to embrace disruption as their strategic advantage, which allows them to create an atmosphere and culture of learning and growth that gets results and solves problems.
How to Embrace Disruption
Growth vs Fixed
How to Create the Atmosphere
The Top Performer and Coach Leader Model
Part 2: The 10 Leadership Virtues
In part 2, Coach Leaders learn how to demonstrate the 10 virtues through their actions so that their walk matches their talk.
Kindness - Be gracious and act with sincerity and goodness.
Selflessness - How do you split the steak?
Respect - Give it to get it.
Humility - Do not be proud or arrogant.
Self-control - How we face the future.
Positivity - A positive attitude outperforms a negative attitude every time.
Looking for the best - Expect the best. Prepare for the worst. Maximize what comes.
Being the light - Lead through darkness.
Never giving up - Being patient and forbearing.
Standing firm - Be worthy of trust in tough times.
Part 3: The Coach Leader Coaching Conversation
In Part 3, Coach Leaders learn how to communicate effectively using the DISC model of human behavior and using the Coach Leadership Coaching Process to have intentional weekly goals and growth-focused coaching conversations with each of their team members.
Understanding and using DISC to communicate more effectively.
Do you want to make more money?
Getting to the big WHY.
The A x E x S = P Coach Leadership Coaching Process.
The Coach Leadership Coaching Worksheet.
Implementing and putting it all together.
Coach Leader Coaching
The most essential part of the Ziglar Coach Leadership Coaching program is the coaching provided to each Coach Leader participant. At Ziglar we believe and we know that there is no such thing as "one and done." The two-day interactive Ziglar Coach Leadership Workshop is essential to create the baseline knowledge a Coach Leader needs. The Coach Leader Coaching is what makes sure this knowledge gets put into action so that growth and results follow.
Each Coach Leader will be assigned a Ziglar Certified Coach Leader Coach and will have 12 coaching sessions over a 6-month time frame immediately following the workshop.
Coaching Session Description:
60 minutes in length
Done every two weeks via Zoom
Primary focus is the growth and goals achievement of team members
First part of call is accountability of Coach Leader to walking out one of the 10 Virtues
Majority of call is creating and role-playing a goals and growth focused intentional coaching conversation specific to each team member reporting to the Coach Leader using the Coach Leadership Coaching Worksheet (included in a separate document)
The Ziglar Coach Leadership Program Includes for Each Participant:
The two-day workshop
All Workshop Materials
One Pre and One Post Workshop Zoom Call ● 5 DISC profiles
12 Coaching Sessions
If the two-day workshop is done at the client's location, the client is responsible for all location expenses as well as travel and expenses for up to four Ziglar trainers and coaches, depending on the size of the class. Class size is a minimum of 6 and a maximum of 20.
Join Ziglar's leadership revolution today. We believe in creating a future of continuous growth, innovation, and shared success. Step up, take charge, and let's shape the world of business together. Our door is always open to those willing to learn, lead, and grow.